The Spaceman – Pasquale "Pat" Porpora
Pat Porpora first picked up the electric guitar at the age of 15, and he had an immediate appreciation for a wide variety of music ranging from progressive/hard rock to the blues and even some classical.  As he spent more and more time with his guitar and his playing advanced, he developed a knack for emulating certain players such as Eddie Van Halen, Joe Satriani and David Gilmour.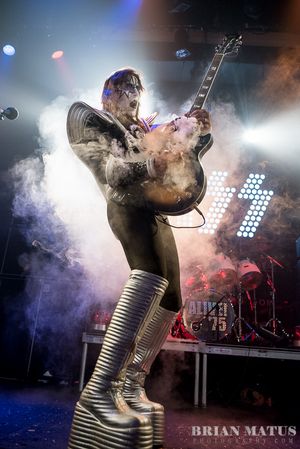 Pat's early years were spent playing in a number of cover bands, and occasionally filling in on bass guitar when needed. His foray into KISS tribute territory began in 1999 as an original founding member of NYC-based KISS ALIVE!. His talent for emulating guitar players was put to the test however, as he took on the role of Space Ace.  Not only did Pat have to sound like Ace Frehley, but he had to look and move like him as well.

Not an easy feat for most people, but it's one that Pat has mastered over the years (admittedly with the help of an occasional shot of blackberry brandy!).  Pat recalls that it initially seemed strange to him going out on stage in costume and make-up, but eventually he grew to look forward to "putting on the war paint" and becoming the Spaceman.
When asked to share his favorite KISS story, Pat has a personal one to share...

Apparently, whenever he mentions to people that he's the Spaceman in a KISS tribute, he's told something like "Ace was just here!" or "Ace comes here all the time!"  Whether it's at Guitar Center in Larchmont, NY, or at some local bar, Ace always seems to be a day or two ahead of Pat.
In fact, someone he knew once tried to sell him a computer and after going through all of the features and capabilities, he mentioned the name of the previous owner.  It was Ace Frehley!

These days Pat is hoping to bring you closer to Ace Frehley every time he steps on stage as the Spaceman in Alive! '75!

Talk to Pat at spaceman@alive75.com.